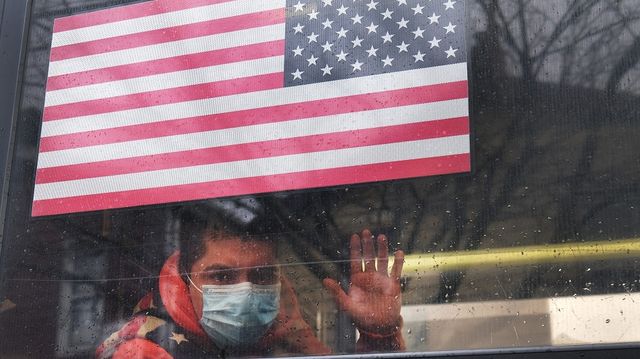 (Bloomberg) — Australia recorded its largest spike in Covid-19 cases since April, raising concerns about a second wave of infections. Signs of a worsening outbreak across the U.S. rattled global markets, with states including Florida, California and Texas setting daily records for infections.
The International Monetary Fund projected a deeper recession and slower recovery for the virus-ravaged world economy than it anticipated two months ago. Health leaders called on the U.K. to prepare for a possible second wave, while the World Health Organization warned of rising Latin America cases.
Qantas Airways Ltd. plans to raise as much as $1.3 billion and cut at least 6,000 jobs as international travel shows no sign of recovering. The New York City Marathon, which attracts runners from around the globe, was canceled.
Key Developments:
Global Tracker: Cases exceed 9.4 million; deaths pass 482,000
Virus's race through U.S. forces grim reality on states
Disneyland's July reopening delayed indefinitely in California
Investors favoring firms that let people work from home
The pandemic's worst-case scenario is unfolding in Brazil
Modi looks inward to save Indian economy as crisis bites
Hospitals are counting beds again with cases rising
Subscribe to a daily update on the virus from Bloomberg's Prognosis team here. Click VRUS on the terminal for news and data on the coronavirus.
Philippines Extends Deadline for Tax Amnesty (11:42 a.m. HK)
Philippines is further extending the grant of amnesty for tax delinquencies to the end of the year to ease the burden on taxpayers following the imposition of community quarantines since mid-March, the Finance Department said. The deadline of application for tax amnesty was last extended to June 22.
Two-Week Shudown of Chile Mine Sought (11:39 a.m. HK)
Codelco's Chuquicamata copper mine in Chile should halt operations for two weeks to undertake a thorough cleaning after a second worker died of Covid-19, according to Union No. 2.
The union is calling for additional testing, sanitizing tunnels at entrances and a local airport to be closed among other measures.
Australia Has Largest Spike Since April (10:30 a.m. HK)
Australia has posted its biggest one-day spike in coronavirus cases in two months, heightening concerns the nation may be entering a second wave of infections that could jeopardize a further easing of lockdown restrictions.
Victoria state recorded 33 cases in the past 24 hours to Thursday morning, while neighboring New South Wales had four cases. While the other states and territories had yet to release their daily totals, they have largely contained community outbreaks.
The 37 cases recorded in Australia's two-most populous states is the highest daily total since 41 on April 19. The country has managed to limit the total number of coronavirus cases to about 7,550.
Beijing's New Cases Rise to 13 (10:24 a.m. HK)
The capital city reported 13 additional local coronavirus infections on June 24, up from seven the day before, according to data from National Health Commission. The number of infections in Beijing's latest outbreak reached 269, according to calculations by Bloomberg.
China reported a total of 19 new cases on June 24, including one local case in Hebei province and five imported cases.
South Korea Confirms 28 More Cases (9:19 a.m. HK)
South Korea reported 28 new coronavirus cases in 24 hours, bringing the total tally to 12,563, data from Korea Centers for Disease Control & Prevention show. Five of the new cases are imported and 23 cases are local. There was one additional death for a total at 282.
Nevada Orders Mask Wearing After Spike (9:13 a.m. HK)
Nevada Governor Steve Sisolak ordered everyone in the state to wear face masks in public after a spike in Covid-19 cases followed the reopening of the economy.
Sisolak said he didn't anticipate penalizing citizens not wearing facial coverings, but urged everyone to do so and businesses to require it. The mask rule would go into effect Friday.
Qantas to Cut at Least 6,000 Jobs (7:43 a.m. HK)
Qantas Airways Ltd. plans to raise as much as A$1.9 billion ($1.3 billion) and cut at least 6,000 jobs as the pandemic that's halted international travel shows no sign of easing.
The Australian airline will also ground about 100 aircraft for around 12 months, it said in a statement Thursday. The job cuts represent about 20% of the workforce.
Qantas this month canceled most international flights until late October after the government said Australia's borders are likely to remain closed until next year.
Democrats Tell Convention Delegates to Stay Home During Pandemic (7:15 a.m. HK)
The Democratic National Convention told state delegates to stay home from the gathering in Milwaukee this summer as the party announced it was significantly scaling back its nominating convention due to the coronavirus pandemic.
U.S. Rebuffs China on Virus Links to Food (6:40 a.m. HK)
U.S. health and agricultural authorities issued thinly veiled criticism of new demands from China for food-exporting companies to sign documents stating that they comply with safety standards to prevent transmission of the virus.
"Efforts by some countries to restrict global food exports related to Covid-19 transmission are not consistent with the known science of transmission," U.S. Agriculture Secretary Sonny Perdue and FDA Commissioner Stephen Hahn said in a joint statement Wednesday.
South Africa Has Record Increase (6 a.m. HK)
South Africa reported a record 5,688 new cases, bringing the total to 111,796, data released Wednesday by the Health Ministry showed. That marks the most in Africa and a fifth consecutive day that new cases surpassed 4,000. The number of people who died after contracting the coronavirus in South Africa rose by more than 100 for a second day, bringing the total tally to 2,205.
Texas Daily Infections Reach New High (5:10 p.m. NY)
Texas posted its worst day so far for new cases, with a jump of 5,551 to 125,921, according to the state health department. The 4.6% one-day rise exceeded the 3.7% seven-day average.
Hospitalizations climbed by 7.3% to 4,389, the data showed.
U.S. Virus Deaths Seen Hitting 180,000 by October (4:50 p.m. NY)
America is on track to lose 180,000 lives to coronavirus by the start of October, according to new data from experts modeling the pandemic at the University of Washington in Seattle, though an embrace of masks could decrease the damage.
The forecast from the Institute for Health Metrics and Evaluation is a reduction from a projection of 201,129 deaths from the middle of June, and is predicated on the expectation that the outbreak will start to pick up in late August and intensify further in September, with 179,106 deaths by Oct. 1.
The drop in projected deaths is tied in part to the fact that more younger patients are being diagnosed with coronavirus infections, and they are more likely to recover from them, said IHME Director Christopher Murray.
Coronavirus cases in the U.S. increased by 36,312 from the same time Tuesday to 2.36 million, according to data collected by Johns Hopkins University and Bloomberg News. The 1.6% increase was higher than the average daily increase of 1.3% over the past seven days. Deaths rose 0.6% to 121,662.
California's Newsom Urges Greater Precautions (4:40 p.m. NY)
California Governor Gavin Newsom urged residents to recommit themselves to slowing the spread of the coronavirus as cases climb by record numbers. But he said there was no need to halt the process of reopening the state.
California reported 7,149 new virus cases, by far its largest daily increase, for a total of 190,222 confirmed infections. The 3.9% jump from the previous day exceeded the average 2.5% gain over the last seven days. Deaths rose 0.9% to 5,632.
Latin America Cases Still Rising: WHO (1 p.m. NY)
Cases in Latin America haven't yet peaked even after rising 25% to 50% within the past week in some countries in the region, Mike Ryan, head of the emergencies program at the World Health Organization, said at a briefing.
Countries need to boost their efforts to track the disease and must quarantine every contact of anyone found to be infected, Ryan said.
While the outbreak has come under control in Western Europe, it continues to expand faster in Eastern Europe, Ryan said.
N.Y., N.J. and Connecticut Order Visitors to Quarantine (11:40 a.m. NY)
New York, New Jersey and Connecticut will require visitors from virus hot spots to quarantine for 14 days to avoid a resurgence in cases.
The announcement is a reversal from March, when Texas and Florida ordered quarantines from the Northeast states where cases were surging. Now those states are on the mend, while several others are seeing a surge in Covid-19 patients. Arizona, California and Texas all set records for new cases on Tuesday.
Florida Sets Another Single-Day Record (10:40 a.m. NY)
Florida reported 109,014 Covid-19 cases on Wednesday, up 5.3% from a day earlier, compared with an average increase of 3.7% in the previous seven days. Deaths among Florida residents reached 3,281, an increase of 1.4%.
The single-day increase of 5,508 is the most ever.
The new rate of people testing positive for the first time surged to 15.9% for Tuesday, from 10.8% a day earlier.
NYC Marathon Canceled (10:10 a.m. NY)
The TCS New York City Marathon, the world's biggest, has been canceled due to the coronarvirus, its organizers said. The 26.2-mile (42 kilometer) race, which would have celebrated its 50th anniversary in November, attracts more than 50,000 runners and about 1 million spectators. It is one of the city's biggest events of the year and major boon for business.
U.K. Must Prepare for Second Wave: Doctors (9:32 a.m. NY)
In a letter published in the British Medical Journal, doctors including the presidents of the Royal College of Surgeons and the Royal College of Physicians warned that local flare-ups are likely and a second wave is a real risk. Preparing for that possibility is now urgent, as is a review of national preparedness, they said
IMF Forecasts Deeper Recession From Virus Threat (9 a.m. NY)
The International Monetary Fund downgraded its outlook for the coronavirus-ravaged world economy, projecting a significantly deeper recession and slower recovery than it anticipated just two months ago.
The fund said Wednesday it now expected global gross domestic product to shrink 4.9% this year, more than the 3% predicted in April. For 2021, the fund forecast growth of 5.4%, down from 5.8%.