Finland PM is looking to implement a four-day work week. Sanna Marin, who became the Prime Minister last month, adds that each day should have...
Glassdoor has released its 2019 ranking of top places to work. Tech giants Google and Facebook dropped out of the top 10, coming in...
Being effective at work is not just about working hard. It's also about working smart. Irrespective of your job profile or industry or sector or...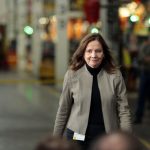 If the future is female, as the slogan says, then the future has arrived at General Motors. In the five years since Mary Barra, 57,...